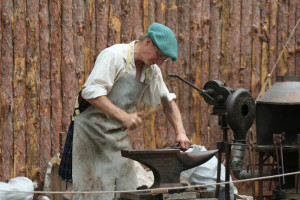 Ken Nelson is one of few blacksmiths to have been granted special access to historical collections.  He has studied pieces at museums such as:
The Metropolitan Museum of Art
The Cleavland Museum of Art
Oakshot Institute
Castlerock Museum
The Higgins Museum
Acedmics provided Ken with a foundation in history and engineering. Working with other smiths and  metallurgists, reading, networking, and experimenting, and continual research enable him create accurate 
replicas and timeless originals.
Iron Wolf Forge conducts classes and demonstrations, sharing the art smithing in public and private venues.